Did you know real money earning games are actually healthy for you? They improve focus, memory, concentration, and analytical skills when played in moderation. Feel like playing some new and best real money earning games? We've got the list of top real money earning games for you!
T>Top Real Money Earning Games
The wait for money making games is over! Find the best real money games here!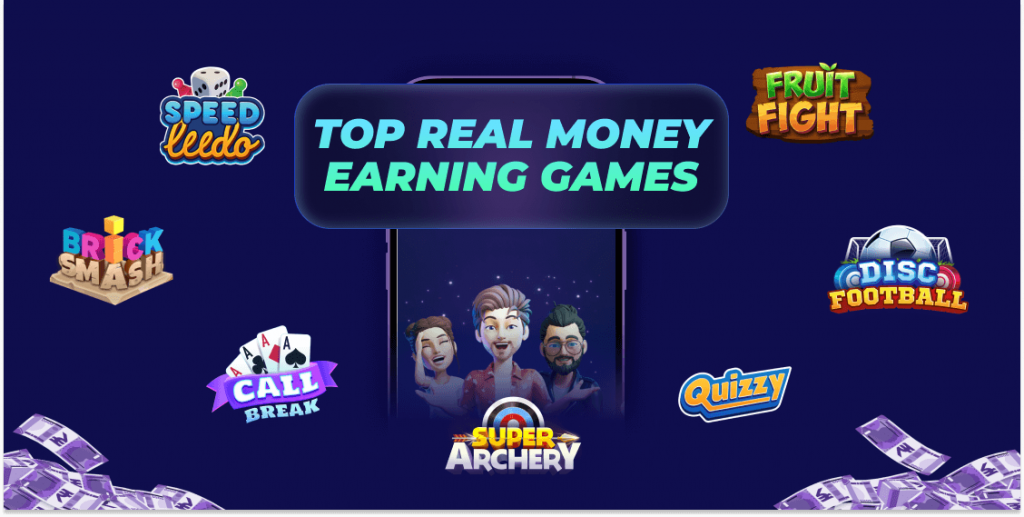 Love ludo? Speed Ludo is a faster and more fun way to revive your good old ludo skills. Use the pawns to reach home and multiply your score 2X, 3X, and 4X. The most interesting part, kill pawns on your way home and absorb their score too! Once the game ends, win real money and withdraw it to your account. This is definitely one of the best real money earning games.
Who doesn't love carrom? Carrom Freestyle is the game of your dreams! It is as fun and exciting as your other favorite casual board games. But, it's faster and different because once you pocketwin the queen, you win real cash and rewards too.This has topped all real money earning games list.
Pool Royale is a new entry on the real money earning games. It is the virtual version of the classic 8-Ball Pool sport where you have to put all your designated balls (either stripes or solids) in the pockets, followed by the 8 ball (black ball). The player who pots the 8 ball wins the game. We bet this is going to be one of your favorite real cash games online.
Super Archery is an aim-and-shoot game with multiple targets. You get a limited number of arrows and limited time to shoot and win points. There are different elements of difficulty such as target, distance and wind which make the game super interesting. The player with the highest points at the end of the game wins. Now, play games and earn money!
Call Break is one of the most popular real card games online. If you've got great casual gaming skills and have mastered the art of card tricks, Call Break is perfect for you. Put your skills to the test & play Call Break online with friends & against opponents all over the country to win real cash.
Rummy
Rummy is a skill-based card game of sets and sequences. To win this money earning game, a player must be the fastest to create a pure sequence, sequences and sets with or without the help of Joker cards. It also has many levels and tournaments to build the excitement of real money gaming which qualifies it to most of the top real money earnings games list.
Fruit Fight is one of the most popular classic arcade games where the more fruits you slice, the more points you get. It is based on your hand and eye coordination, along with speed and skill. The goal is to slice one or more fruits together while ignoring distracting bombs and score the highest points before the time runs out. Download fruit fight to play games and earn money!
Poker
Poker is a card game much loved by all. In the real money game version, the players strategise over the best hand and wager to win the pot amount. The trick is to wager as if you have the best hand and make other players believe it too so that the pot money becomes bigger with each round.
Disc Football is an exciting football game played among 2 players with disc, where they compete against each other to score the target goals first. The players select different disc formations as per their game strategy and strike goals to win the game and earn cash.
Want to earn money by playing games? Brick Smash is for you! It is one of the best arcade games for android which revolves around making layers of bricks to win points. Brick Smash is a multi-player 3D puzzle where you arrange bricks onto a platform. The goal is to arrange the maximum number of bricks and clear layers to score the highest points and win the pot money in the game.
Fantasy Cricket
Another popular money earning game online is fantasy cricket. It is a team-led cash game. In this version of the game, the money earned depends on the performance of the team players chosen. It also offers tournaments and contests to level up the playing experience.
Snakes and Ladders
Relive your childhood snakes and ladders fun-time online and earn real money too. Just make your moves as per the numbers on the dice and reach 'home' or 100 as early as possible. But make sure, you skip all snakes and land up only on the ladders.
If you love quizzes, and real money games and feel you've got the fastest fingers, Quizzy is the best real money game for you. All you need to do is correctly answer the questions on the screen in the least time possible and win the rounds. Once you win all the rounds, real cash is your reward. Get online games to earn money now!
Big Time Chess
If you think you can cash on your chess skills in online earning games, you're right. This virtual chess is as real as it gets with its various difficulty levels. To win, you must participate in cash prize draws in the Beginner, Advanced, Expert or Master level. Play chess games to earn money now!
Teen Patti
One of the most popular online earning games, Teen Patti is an adaptation of the famous English game, 3-card brag. It is a standard deck, multi-player game ranging from 3-6 players, where players put stakes in the pot and the last player to resist folding wins it all as real cash rewards.
Loved the real money games list? Now, earn money by playing games!
Play real money>Play real money game on Rush
fun & free earning game app with AAA quality games, where the competitive spirit of India comes alive. Players compete against each other in skill-based free
sports
,
casual
,
arcade
,
card
and
board games
& win real money.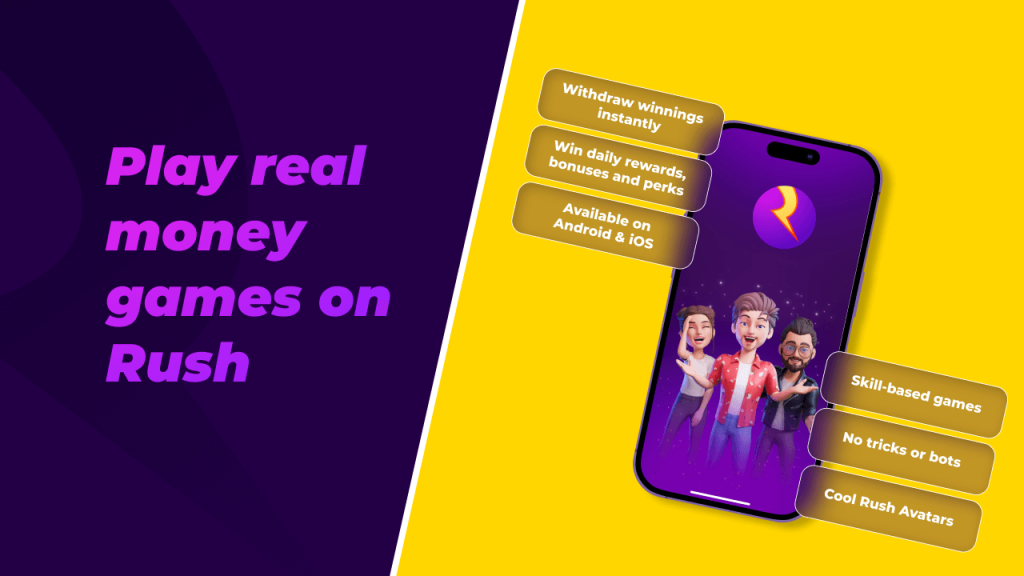 There's more!
Withdraw winnings instantly
Win daily rewards, bonuses and perks
Available on Android & iOS
Skill-based games
No tricks or bots
Cool Rush Avatars
Want to play fun, entertaining and the best real money games? Download the Rush App for best money earning games to play, win, earn, grow and repeat.