Payment Partners








Don't take our word for it
No need for a separate app. Play Call Break & many more games on Rush. Don't take our word for it. Hear it from those who have downloaded and play Call Break to win real cash!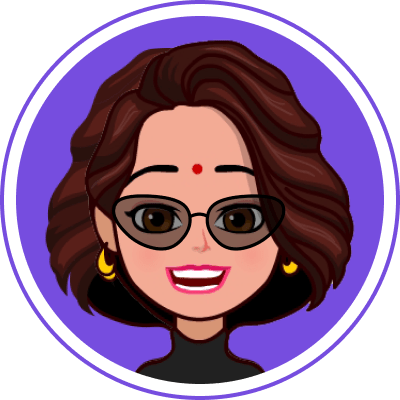 "Kya alag-alag Solitaire, CallBreak game download karna. Rush mein sare hi games hai aur ek hi VIP membership se sab mein discount milta hai."
~ Juhi, Kolkata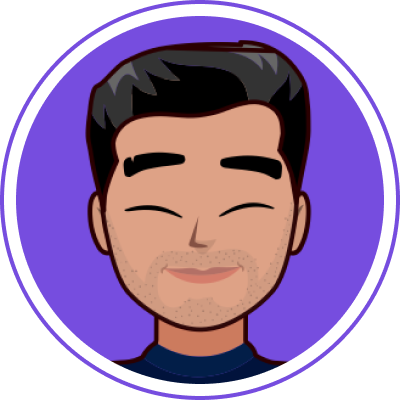 "I love playing on Rush! High-quality graphics and such fast customer support."
~ Sameer, Rajasthan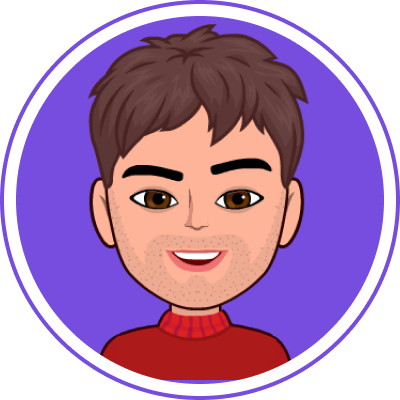 "It's a great way to earn some extra cash and train your brain, especially during the pandemic. I can play Call Break on Rush for hours at a stretch."
~ Aman, Uttar Pradesh
Rush Call break: The best real money game
Calling all Call Break lovers! Everyone is playing Call Break at Rush by Hike and earning money. Don't miss out! Hop into your favorite casual card game, Call Break online. But there's a twist. Play Call Break online, absolutely FREE and win real cash without investment.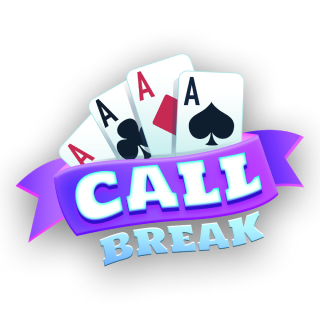 About Call Break Multiplayer?
Call Break is a classic card game played among 4 individual players with a standard deck of 52 cards. The goal is to win the hands you call (or more) at the beginning of each round. Download Call Break Multiplayer now!
How to download Call Break?
Call Break, the best online Call Break Multiplayer money earning game on the Rush app, is available for both iOS and Android devices. To download the Rush Cash app:

On Android:
If you are using a desktop/laptop, enter your phone number to get a download link via sms.
Tap on the link to download and open the .apk file.
If you are using a mobile device, tap on the 'Download Rush App' button.
Tap to open the file.
Click 'Install'. If you see a warning, visit 'Settings' and tap on 'Allow from this source'.
Sign up on Rush by entering your mobile number and 4-digit OTP received.
Set your Rush Avatar using a selfie or choose from the gallery.
Claim your Sign-up bonus and start playing!

On iOS:
Visit the App Store.
Search for 'Rush Play Games, Win Cash'.
Tap on the 'Get' icon.
Sign up on Rush by entering your mobile number and 4-digit OTP received.
Set your Rush Avatar using a selfie or choose from the gallery.
Claim your Sign-up bonus and start playing!
How to install Call Break?
Step 1: Press "OK" to complete the download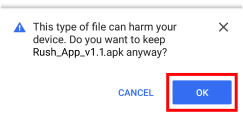 Step 2: Open settings and turn on unknown sources to install the Rush App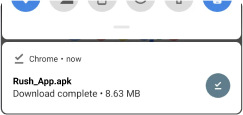 Step 3: Open settings and turn on unknown sources to install the Rush App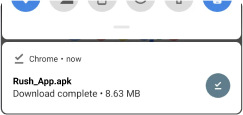 How to play a Call Break Multiplayer game on Rush and earn money?
The Call Break rules are simple and very similar to the usual game. Know how to play the real player Call Break game online and win real money without investing here: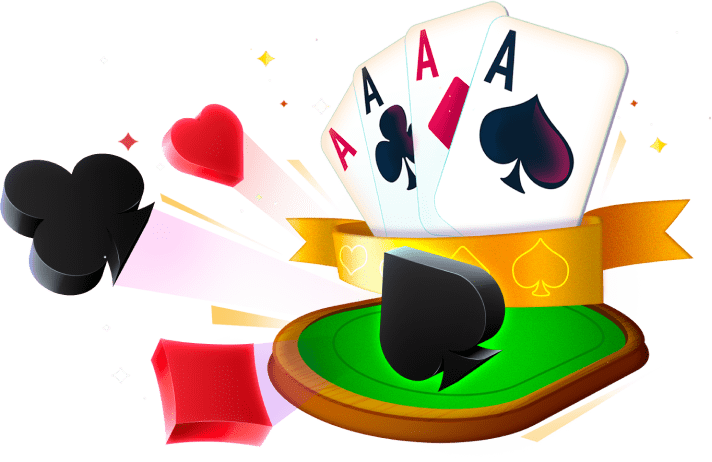 To win, you must score the winning points before your opponent.
At the start of each round, bid the number of hands you expect to win. Bidding happens in a sequence, one user at a time. (Default:1, Max: 8 )
Your score depends on the hands you win.

| | | | | | | | | |
| --- | --- | --- | --- | --- | --- | --- | --- | --- |
| Bid | 1 | 2 | 3 | 4 | 5 | 6 | 7 | 8 |
| Score | 1 | 2 | 3 | 4 | 5 | 6 | 7 | 13 |

Equal to your bid, you get 1 point for each bid
More than your bid, you get 1 point for each bid and 0.1 for each extra win
Less than your bid, you get -1 points for each bid
If you bid and win 8 hands, you will get 13 points.
To win a hand, play a higher card of the same suit or a spade (Highest suit: Spade).
If you don't have higher cards of the same suit or a spade, you can play any card from the same or another suit too.
If there's a tie in the final score, both players will get the same rank and an equal split of the winnings.
If you leave the game, minimize the Rush app, or miss 8 turns, you will lose the game and entry fee.
Why play Call Break on Rush?
There is not just one but many reasons for you to download and play Call Break Multiplayer and earn money. Find out here.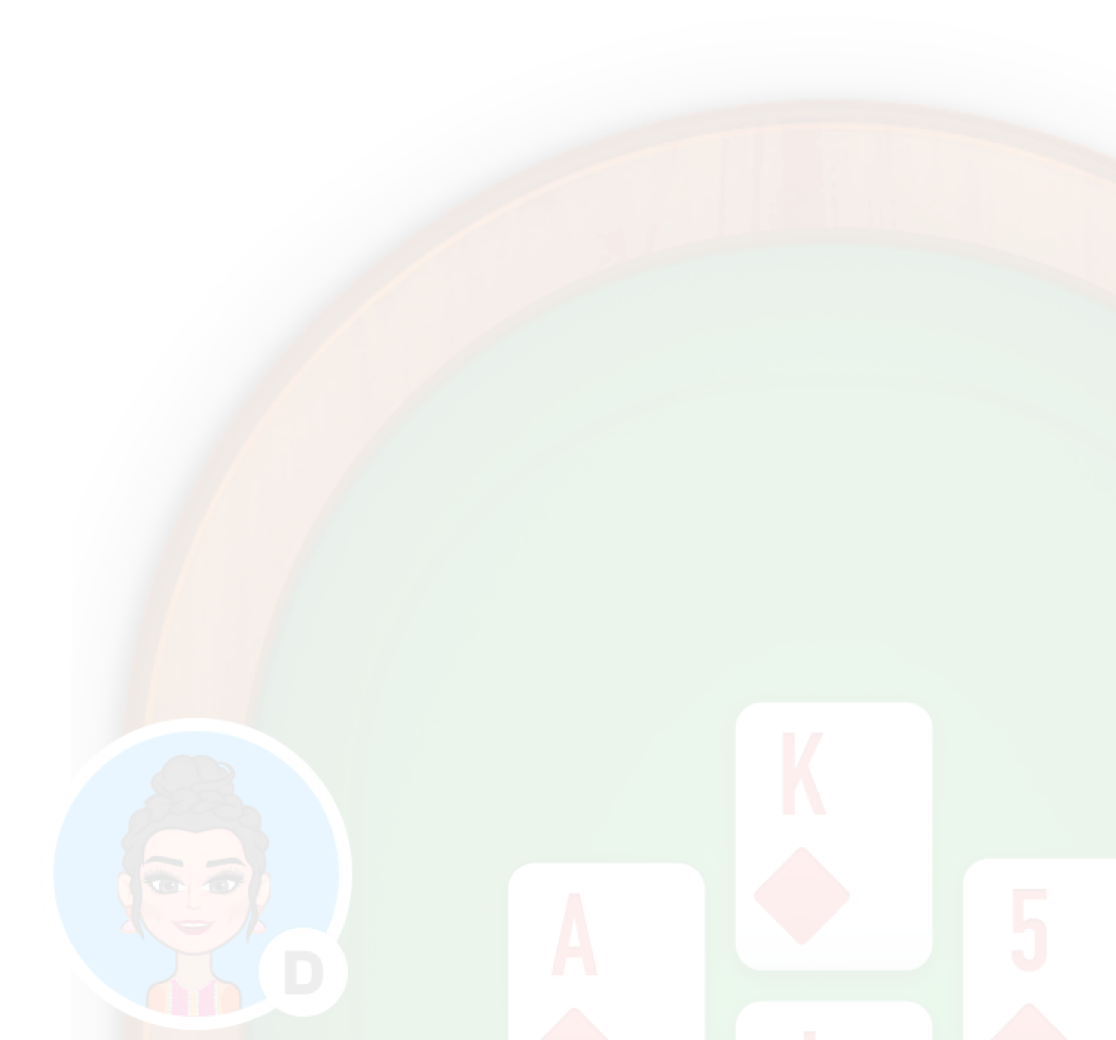 Play Call Break multiplayer online:

Restore the good old card gaming fun online with Call Break on Rush by Hike.

Best free Call Break Multiplayer app:

Play your casual card games online, absolutely FREE.

Play and win money:

Put your gaming skills to test and earn like crazy.

Real Players:

No bots or tricks, show off your real skills.

Win money & daily rewards:

Withdraw winnings instantly into your UPI account.

Refer A Friend & VIP Membership Perks:

It's as exciting as it sounds and equally rewarding.

All-in-One:

Not just Call Break, play Speed Ludo , Archery , Quizzy, Brick Smash , Carrom & many more.

Popular Games:

You'll want, we'll get. You can always vote for your favorites on the app.

24*7 Customer Support:

Always got your back at support@rushapp.in
Common Terms Used in Call Break
While playing Call Break, keep these terms in mind to earn more points and money.
Bid: This is the number of sets the player thinks they can win in a round.
Face Cards: Ace, King, Queen, Jack are face cards. The hierarchy of cards is Ace>King>Queen>Jack
Trump Card : Spade has the highest value among all the suits. A spade card will defeat any card of other suits – no matter the rank.
Tips & Tricks to win Call Break
Here are some tips and tricks to help you play and win real money in Call Break :
If you bid high and fail to secure that many hands, your score for that round will be negative
Bet on all your Aces and Kings to take tricks.
Avoid betting on Jack and number cards unless they are Spades.
If the highest card is played and none of your cards can beat it, throw the smallest value card of the same suit.
When a player shows out of a suit by trumping it, try to lead them to do it again. This way, you'll force them to use their trump cards.
If you have multiple high-value trumps, like Ace, King, Queen and/or Jack, try winning as many hands as possible with lower-value cards.
Frequently Asked Questions (FAQ's)
Can I play Call Break Multiplayer online and win cash for free?
+
Of course! All you need to do is get the winning score faster than your opponent, and the winnings will be credited to your Rush wallet as soon as you win.
---
How can I pay less and win more cash?
+
The minimum amount to start the game is Rs.2.5. You can buy one of the VIP membership packs and get up to 20% discounts on gameplay.
---
Why is Call Break Multiplayer on Rush better than all other online games?
+
Unlike other Call Break Multiplayer apps, Rush has a vertical alignment, making it easier to hold the phone and play Call Break with just one hand! There's more.
Real Players:

There are, and there will be no bots ever!

Real Cash:

Put your skills and spare time to good use.

No platform fee*:

Save on the entry fee and win bigger with Rush VIP.
Play Call Break Online & many more games