Love playing carrom and want to get better at it? We all do! How do you ace your aim in the carrom game? Let us help you polish your carrom aiming techniques.
Before you learn how to aim in carrom or improve aim in the carrom game, learn about the history of carrom. Carrom is a term that means strike and rebound. Carrom is a unique board game thought to have been created for the Indian aristocracy. Four players take part in the board game of carrom on a board with four pockets and several white and black pucks. These pucks, which are black and white, are also known as "carrom men." A red or pink puck known as the Queen is in the middle of the board. Typically, the player who wins the Queen and its cover, or the maximum number of pucks, wins the game. Nowadays, carrom is played online, as a real money game. 
Carrom, one of the most played online games now, was once a well-liked indoor game. This classic, skill and strategy board game has endured the test of time, traditionally played by the elite on a wooden board or a glass board. Many shots can help you improve your aim in the carrom game, some of which are: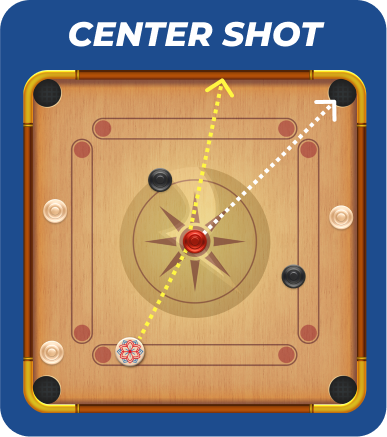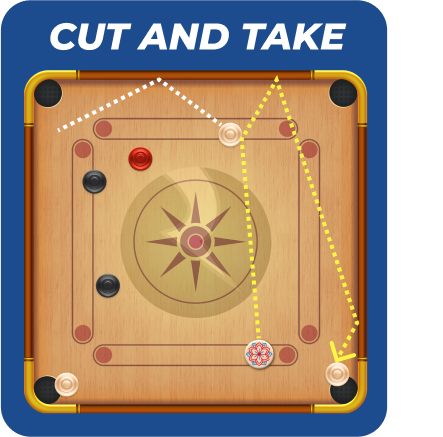 Thumb hot 
Second hit
Board shot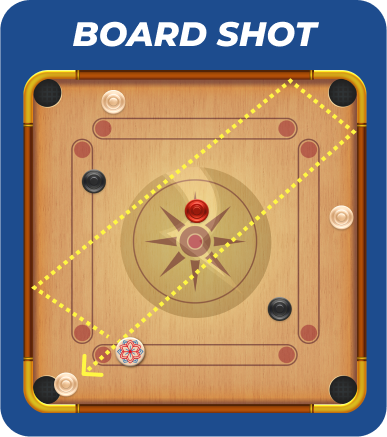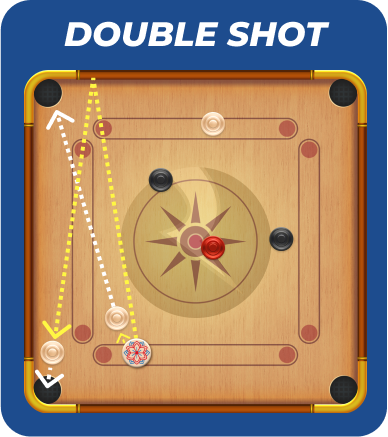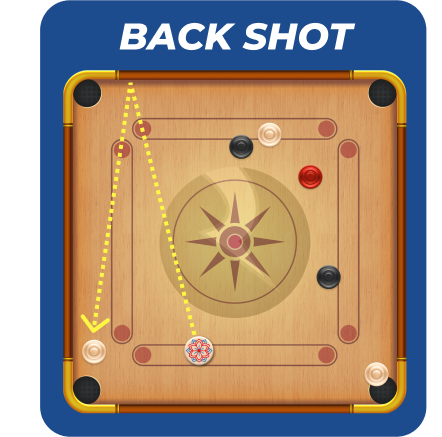 Want to know how to improve aim in the carrom game? Here are some tips that will help you level up your game.
Read More: Online Carrom Vs Offline Carrom Game – Which is better? A Detailed Comparison
How To Improve Your Aim In Carrom Game?
Here are a few carrom aiming techniques to make you better at the game.
Practice different shots and aiming directions: You must first decide to keep practicing your shots. Only the striker will work its magic once you've had enough game play and experience.
Practice with pucks that are easy to pocket: It is wiser to collect all nearby pucks or pucks lying around the pockets, which not only boosts confidence but also develops a habit of aiming and pocketing the puck.
Use the index finger to move the striker: Place the base or edge of your finger steady—firmly on the board. You will flick the striker effectively and go in the intended direction in this way. Pushing the striker might cause a penalty.
Understand the force of the striker: Use less force for close shots and more force and focus for distant shots.
Try different striking styles: There are several shoots, including those using the thumb, the middle finger, or the standard straight shot. No matter what, keep your fingers near the striker at all times. By doing this, you could strike the striker with no risks. If you strike the striker from a distance, you may miss the target.
Use a mix of shots: Never rely on just one type of shot to get all your pucks. Instead, deploy a combination of side shot, middle shot, board shot, center cut shot, and back shot.
Choose straight shots over tricky shots: It is all about your confidence with scoring pucks using different techniques. Practice your signature shots and rely on it towards the end of the game.
Make the game challenging for the opponent: Wipe the board off all easy targets and leave only tricky shots for your opponent, so that they may end up committing fouls while trying to collect pucks.
Try to avoid hitting shots that scatter the pucks: Centre shots at the start of the game can benefit both the players. However, idle shots in the middle of the game should be avoided, as they can completely change the course of the game and help your opponent to win.
Lose fewer pucks as a penalty: It is wise for the players to commit fewer fouls and therefore, lose the collected pucks as dues and penalties. Hence, run through the game rules before you start the game.
Read More: List Of Top 10 Indian Carrom Players 2022
Feel like playing carrom now? Hop on to the Rush app to play Carrom Freestyle ASAP!

Rush is your go-to gaming universe for fun & free real money games with AAA quality. It has the top games online, where players compete against each other in skill-based free sports, casual, arcade, card and board games & win real money.
There's more!
Withdraw winnings instantly
Win daily rewards, bonuses and perks
Available on Android & iOS
Skill-based games
No tricks or bots
Cool Rush Avatars
The queen and other pucks are waiting for you. Download Rush and start playing now!