If you have been on the Rush App for some time, you must have definitely referred your friends to enjoy the amazing referral bonuses and perks. But for those who are new to Rush, you are missing out on a lot of cash. Here are some of many reason to refer rush app to your friends. Read on!
About Rush
Rush is a fun and free earning game app with AAA quality games, where the competitive spirit of real player is recognised and rewarded. It has the top casual games online. In the Rush Gaming Universe, players compete against each other in skill-based free games.
Rush has all kinds of games, which are:
You can play all of these real money online games in just one gaming universe, the Rush App. And you can refer your friends to enjoy real money perks, just like you will. All players who join the Rush app and play games get free bonuses, daily rewards, spin the wheel rewards, cashback, free Rush Avatar NFT and lots more.
Refer And Earn Programme on Rush
Refer and earn is a referral program on Rush where you can easily earn cash by just referring your friends. You must share your referral link with your friends from the Referrals tab and make them join Rush. Once they sign up and play games, both you and your friends earn cash. Currently, you can earn up to ₹50,000 by referring friends.
Reasons To Refer Your Friend
There is not one reason to refer rush app but many, some of which are: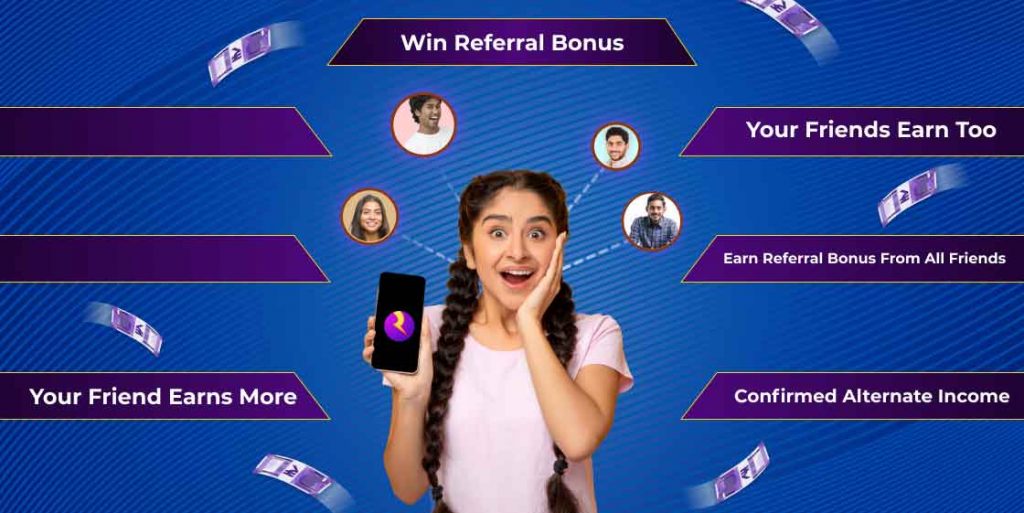 Win Referral Bonus: When your friend registers on the Rush App, you win referral bonus.
Thinking, why to refer your friends Rush? You should know this! Once you share your referral link and your friend signs up on the Rush App, you will get a Rs.1000 referral bonus instantly.
Earn Rewards: When your friend plays games, you get a Friend's Gameplay Reward.
When your friends start playing games on the app, you will receive bonuses based on the amount and number of games they play.
Get Bonuses: When your friend deposits cash in his wallet, you get a bonus in your wallet too!
Next, when your friend makes their first deposit on the Rush app and so on, you will get a bonus too.
Your Friends Earn Too: Now, your friends get daily rewards, spin the wheel bonus and other perks for being on Rush.
Not just you, but once your friend is a Rush player, they will receive a welcome signup bonus, daily rewards, lucky spin bonuses, cashback and lots more.
Earn Referral Bonus From All Friends: When you refer more friends, and they join, you get a referral bonus again.
Wondering why to refer rush app only to one friend, right? You can refer as many friends as you like. So share your referral link to all of your friends and earn referral bonus and friend's gameplay reward when they join and play on the app.
Your Friend Earns More: You and your friends can take part in game tournaments and leaderboards to win big!
Not just the bonuses and rewards, you can win up to Rs.50,000 and even more by participating in the special game events such as leaderboards and tournaments. There is a referral tournament too, so to win it, refer the maximum number of friends.
Confirmed Alternate Income: You and your friends have a great second source of income.
You can earn up to Rs.50,000 and more as referral bonus by inviting friends on the app.
Read More: Celebrities Who Love Playing Online Games – #7 would Surprise You
How To Invite Friends On Rush?
To refer your friends to Rush, follow these steps: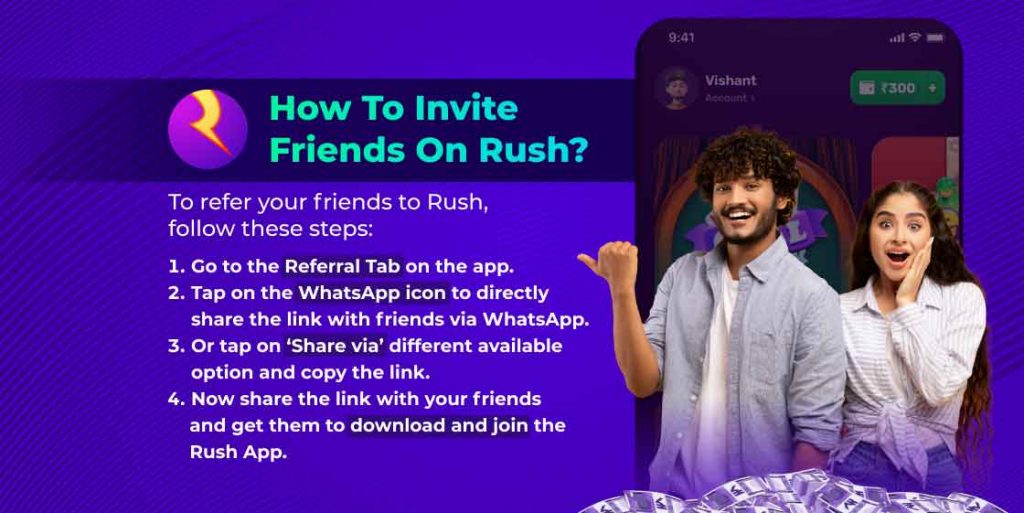 Go to the Referral Tab on the app.
Tap on the WhatsApp icon to directly share the link with friends via WhatsApp.
Or tap on 'Share via' different available option and copy the link.
Now share the link with your friends and get them to download and join the Rush App.
Now you know all the reasons to refer your friend on the Rush App. Since, all your referral bonuses are waiting! Invite your friends now!
Frequently Asked Questions (FAQs)
How does refer and earn work?
To earn through referrals, share your referral link (created automatically in the Referrals tab) with your friends. When your friends register on Rush using your link, you earn instant cash in your Rush wallet.
What is a Friend's Gameplay Reward?
When your referred friend plays games on Rush, you get some reward (money) in your winnings wallet.
When do i get the referral bonus?
You get the referral bonus after your referred friend signup on Rush.
How can i track the referrals done and earnings?
Find all your referrals and earnings under the 'Referrals' tab on the app.
Is there an upper limit to the number of referrals?
No, you can refer as many friends as you want.